In their own words: Surviving lockdown in Syria's refugee camps
Older people in Syria have seen their lives turned upside down by war, and survival in the refugee camps is a daily struggle for older people even without dealing with a pandemic. Fortunately, Age International, through our partner SEMA, have been able to reach out to older people in the refugee camps to provide vital information and support. Mr Omar and Mrs Shamta told us about their experiences.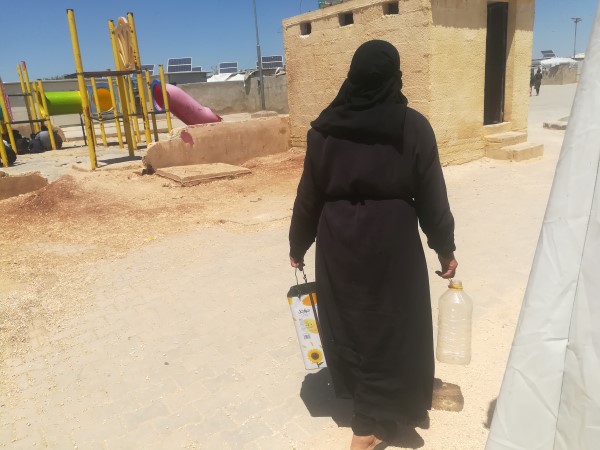 Mrs. Shamta, Shuhadaa suburb, Shamarin
70-year-old Mrs Shamta lives with her daughter in a tent in the Shuhadaa suburb camp in the village of Shamarin, after she was forced to flee from her village of Al Nabi Remya.
"I am an old lady, but I still have to work on agricultural land to earn a living for myself and my daughter. We have no breadwinner for us in these difficult circumstances of displacement and high costs. In addition, I live in a cold, worn-out tent.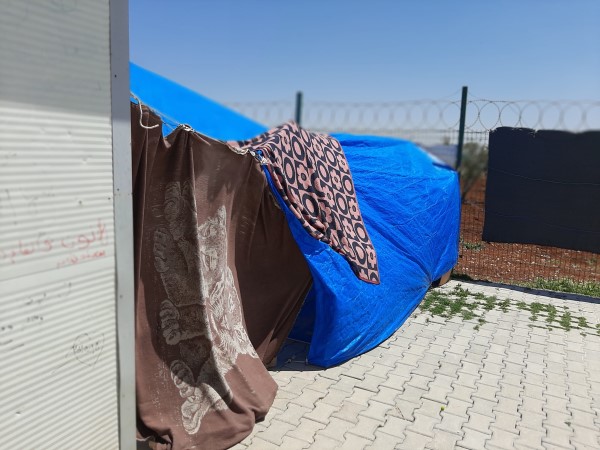 I have to fetch water daily and put it in the many small containers that I collected and cleaned and sterilized, in order to protect my health and that of my daughter from widespread diseases, including this new virus. My daughter told me that we can prevent it with cleanliness and sterilization, she follows medical advice from YouTube and advice provided by the Hospital's Community Health Team.
When I return from work, I wash my hands and feet well with soap and water so that I do not carry diseases to my tent. I also heard from the community health teams that this disease is transmitted if a sick person coughs in front of us or sneezes, so I try to stay away from patients sick with this virus and keep my daughter from approaching sick people as well in order to not catch it. I am more afraid for her more than myself as I don't have anything to protect her from this virus except maintaining good hygiene. I pray to God to protect us from all evil.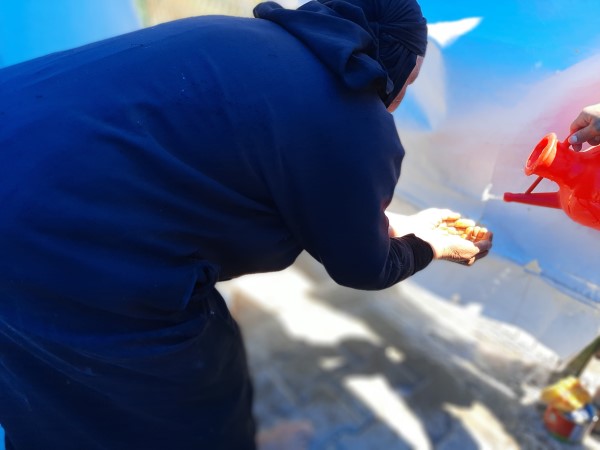 There is no quarantine in my community and there is no restriction on movement. I go to work in the fields every day and go to buy food, drink, and medicine constantly and I will continue to work as long as I can because my children cannot help me.
As for the precautionary measures taken by the local community, I see that they are not sufficient. All they do is to distribute little soap and put chlorine with water for sterilization, so I am concerned about this situation. Health services are few.
But when the SEMA/Age International community health team visited us and gave us advice, sterilization tools and awareness materials about the virus. The awareness sessions which reassured me a little.
I hope that we can return to our normal lives and provide more support, care and attention to the elderly all over the world in order to live a life full of hope, health and wellness."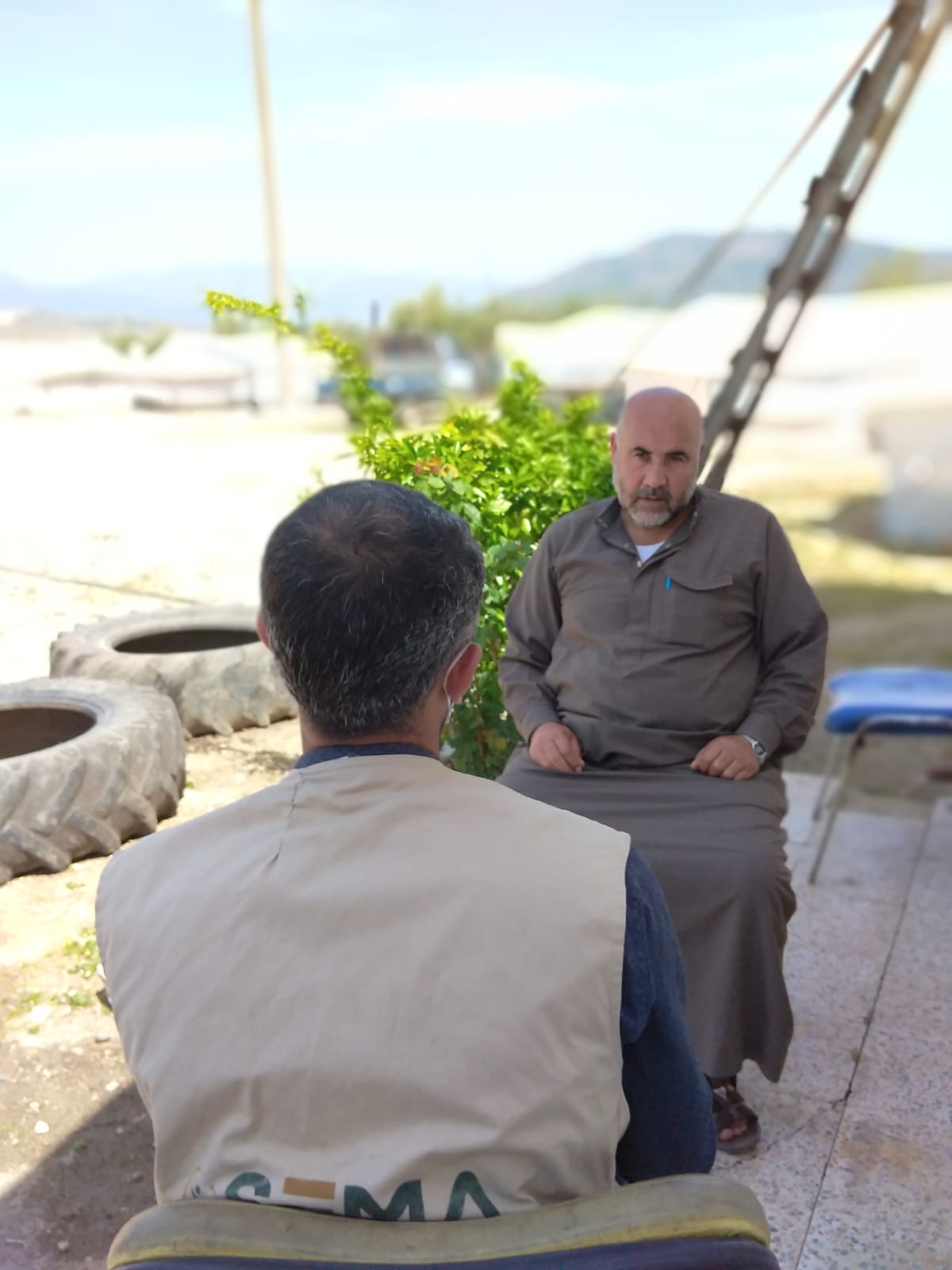 Walid, Meydan Ikbis
Walid is 62 years old and was born in the western countryside of Aleppo in the village of Oweijel. He now lives in Meydan Ikbis with family.
"My family and I were displaced to a small camp within the city of Meydan Ikbis. I live with six of my children, two of whom are married and all live with me in the same tent. Our life was very good in Aleppo, where I was born. The living conditions met our needs and I worked to earn my daily food, but since we fled the war our lives became more difficult, because of the lack of work opportunities and the lack of humanitarian assistance. The camps are overcrowded and lack sanitation.
My family and the people of the camp fear an outbreak of COVID-19, especially as most neighbouring countries have suffered from the virus throughout their lands. Every day on the news and social media we see high numbers of infected and dead around the world, and no one has discovered a treatment for it.
But after visiting the SEMA mobile outreach team that works within the city and its villages and visits homes and camps, we have information about the new virus, how it spreads, how it is transmitted, and how to prevent it. We learned to make changes, including reducing visits, gatherings, going out only once a day for our daily necessities, keeping hands clean and not shaking hands, and that if a person suffers from one of the symptoms of the disease, they must isolate themself even from their family and contact the epidemiological surveillance workers within the centre.
Unfortunately, I do not feel that we have the ability to take full precautions, because many families live in the same tent, the water often isn't often sterile and we do not have enough hygiene or sterilization materials for the whole camp. So I have serious concerns that the virus will spread between crowded camps that have the lowest standards of living. Thank God, so far none of our relatives or friends have been infected with the virus.
I was affected by restriction of movement, staying in isolation within the camp for long periods and restrictions on entering into cities. I feel frustrated, especially when I'm trying to provide the basic needs for living from food, water and hygiene materials that the local councils did not provide the camp with enough of.
I would like to mention the great medical and health support we received from the SEMA centre and Age International, who provided sterilization materials and educational sessions and advice on Covid-19. Thank God we received appropriate advice from their team. They are in constant contact with us, referring any medical condition that occurs in our camp, providing the necessary information, and providing sterilization materials for the virus.
We hope that this disease will disappear, that our normal life will return to its previous time, and that more attention and practical support will be given to improve the lives of the elderly in the world."
More stories from Syria
Read more firsthand accounts of life as an older person in Syria during the global pandemic.
Read more stories from the ground
Read more of the latest news and stories on our work in combating the coronavirus in low to middle income countries.
Help us to continue supporting older people around the world
Whether with better healthcare, a secure income or life-saving aid – your gift could help change lives.

Follow us on social media
Keep seeing our stories or ask us a question - connect on Facebook and Twitter.