Life during the pandemic in an IDP camp – Mary's story
South Sudan is the youngest country in the world and one facing one of the worst refugee crisis in the planet. The 2013 conflict in South Sudan led to widespread displacement, forcing much of the population into camps for internally displaced people (IDPs).
A catastrophic rainy season this year further forced South Sudanese people into displacement camps around the country. Heavy floods, hunger, and the outbreak of COVID-19 marked the ninth anniversary of this country. Today, there are nearly 1.5 million people living in displacement within South Sudan.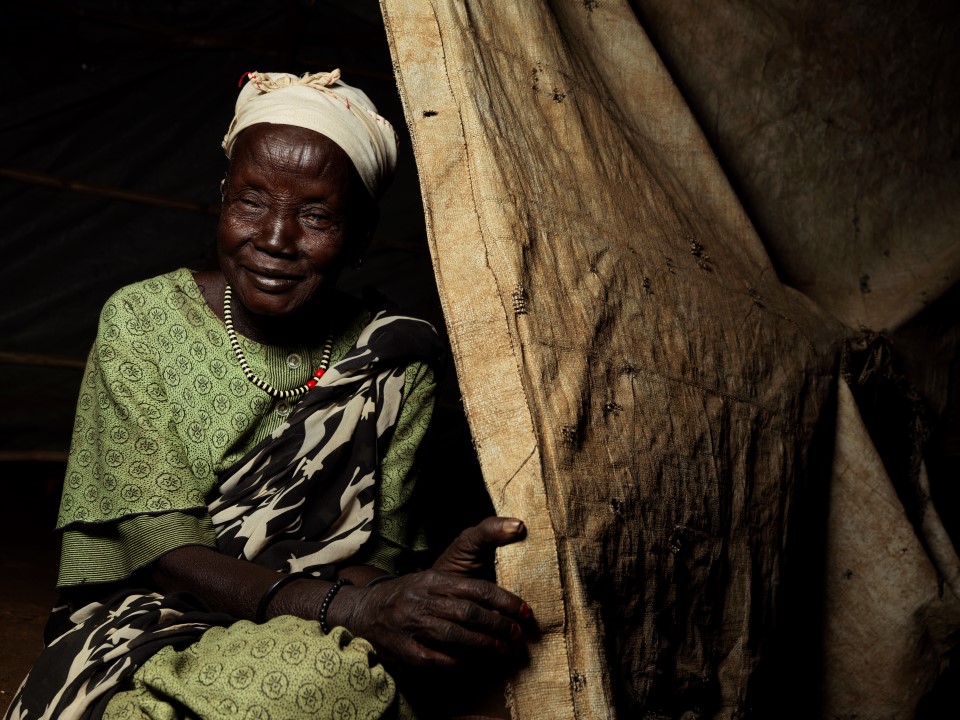 Mary, 76, lives in Mahad, one of the IDP camps in Juba. Mary has nobody to depend on at the camp. Like many elderly people who have been forced out of their villages, Mary lives alone. This is her story.
In 2013, one of the first battles of the South Sudanese Civil war broke out in Bor, where Mary lived with her son and grandchildren. Unfortunately, by the time they decided to flee it was too late and Mary witnessed the death of her son and in-laws who were all shot by fighters.
Holding her two surviving grandchildren, Mary fled to Minakamon UN camp, reaching it by boat on the White Nile where she and other displaced people were offered transportation to Juba. Mary stayed for a short period with her daughter in Gumbo, a district in the capital, but because traditionally mothers can live with a married son but not with a married daughter, Mary had to seek out refuge at Mahad camp.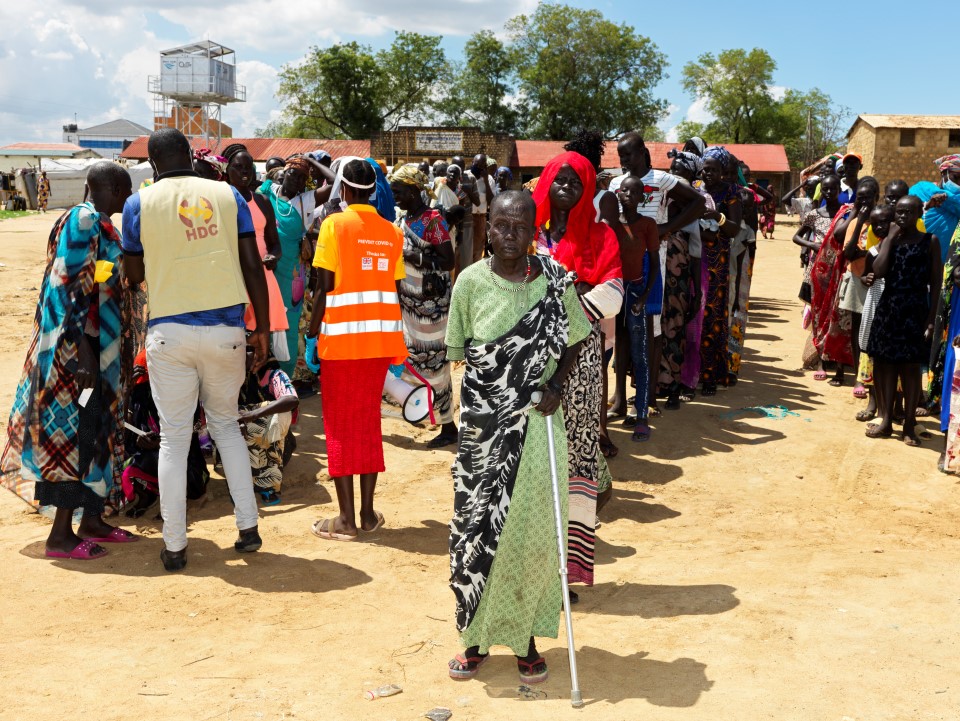 Life inside a camp can be very different if you are young and have a family. A grandson can help to fetch water and an older daughter can help to sell a few vegetables outside of the camp. At 76-years-old Mary doesn't have anyone to support her. She lives in a plastic shelter and sleeps on a mat on the ground surrounded by other shelters with displaced families.
The camp turned into a home for Mary, "when I arrived here there was food for me. That's how I survived."
Before COVID-19, Mary's grandchildren attended school outside the camp and visited her during the afternoons. But with the outbreak of COVID-19 heavy movement restrictions were imposed on the population which meant that schools closed and her grandchildren couldn't visit Mary anymore.
Life changed completely inside Mahad camp during the outbreak of COVID-19. Under heavy lockdown, assistance stopped and food became scarce. The news that COVID-19 was more risky for the elderly worried Mary who stopped going out of her home, frightened of catching the virus. Social distancing was "very difficult because houses are next to each other and the camp is crowded," says Mary who saw that "people avoided each other when fetching water." Without assistance medicine was hard to find and for old people "going to the hospital carried a fear of catching coronavirus there," but for Mary hunger was the worst. She feared going outside the camp to try to find some food or money and didn't know what to do to protect against COVID-19, "let's not greet, let's not stay close together," is what she heard communication vehicles say on the streets. Mary would have starved had it not been for the kindness of her neighbour who braved the streets like many women from the camps during COVID-19 to sell a few vegetables and bring back food for the family and for elderly neighbours like Mary.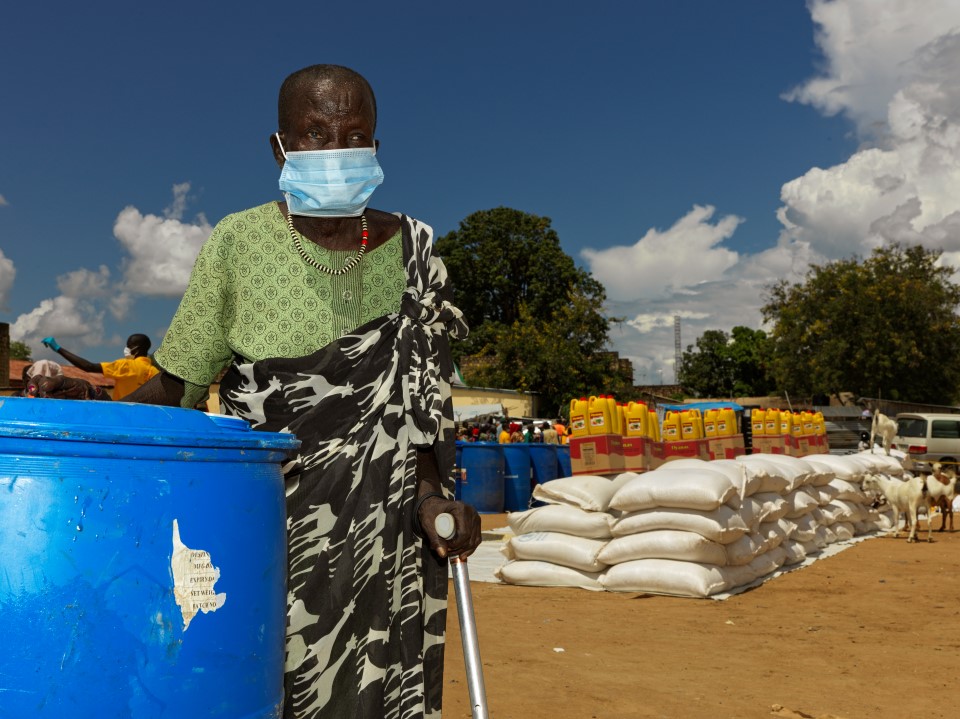 With restrictions being lifted aid is returning to the people living in displaced camps in South Sudan. Mary is one of first to receive food and a large water drum, the first of several distributions possible thanks to donations and which are destined for the most the vulnerable inside the camp - the elderly and the disabled.
Happy and hopeful about the returning aid Mary tell us that "life was hard during corona but now life is improving. Assistance has come back and distribution of food and water have started again. I hope this disease goes away so we can have a good life like before, so we can have help again."
Read more stories from the ground
Read more of the latest news and stories on our work in combating the coronavirus in low to middle income countries.
Help us to continue supporting older people around the world
Whether with better healthcare, a secure income or life-saving aid – your gift could help change lives.

Follow us on social media
Keep seeing our stories or ask us a question - connect on Facebook and Twitter.