I care for my disabled son and spin cotton
Aselefech is 70 and lives in Ethiopia. She juggles unpaid caring work with her spinning work.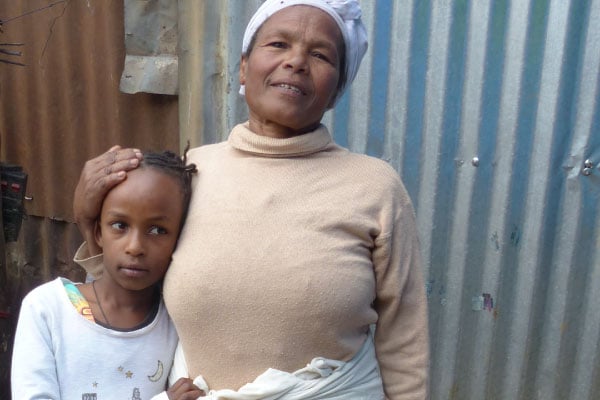 Aselefech starts each day by having breakfast with her grandchildren. 'I give the older child a piece of bread,' she says 'and I share a piece with my other grandchild.'
Then, at 7 am, she takes the children to school. Aselefech is 70. Her husband struggles with alcoholism. Her son has a mental health condition. She cares for them both, as well as the two grandchildren who live with her.
At 9 am Aselefech heads to a local day centre, which is supported by funds from Age International. 'At the centre, I chat with the other women and share my problems. It helps me feel at ease,' she says.
As well as finding companionship at the centre, she also goes there to spin cotton to earn some money. Before cotton spinning, Aselefech had to break stones. It was 'hard physical work' she recalls.
After work, Aselefech returns home to care for her son: 'I give him medicine. I feed him, look after him'. In the evening, if there is enough money, she makes dinner for the family – injera bread with stew.
'I never sit idle,' Aselefech tells us. 'When I'm not spinning, I'm doing the housework.'
Aselefech has kidney stones, but she has decided not to have an operation to remove them. 'It would be difficult to take care of everyone,' she shrugs.
'I am worried about the kids. Their happiness is my happiness. I want my grandchildren to have a better life.'
Who cares about older women's work?
Age International is examining older women's experiences of work - paid and unpaid - in poorer countries.
Assets for media
Credit must be given for all assets used. Get in touch for more info.

Follow us on Twitter
Stay up to date with the latest news, publications and blogs