Foot doctors could save lives in Central Asia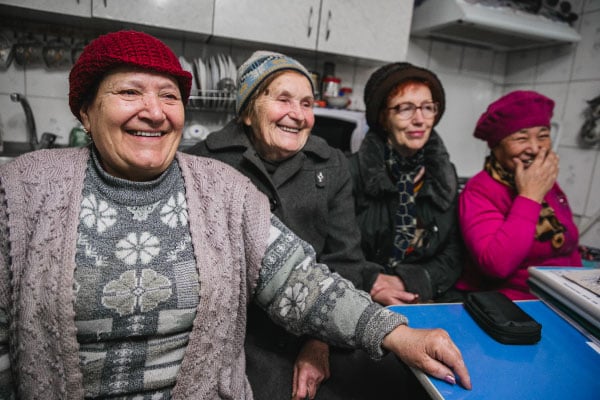 Published on 01 April 2018 02:00 PM
Foot doctors could be saving lives in one of Central Asia's poorest countries, thanks to an innovative new health programme from Age International.
Diabetes is a growing threat to the population of Kyrgyzstan; 41% of cases go undiagnosed due to poor screening and lack of awareness.
If left untreated and uncontrolled, diabetes leads to heart attacks, kidney failure, loss of sight and amputations. It kills millions annually.
It is estimated that more than 388,000 people in Kyrgyzstan will have the condition by 2045.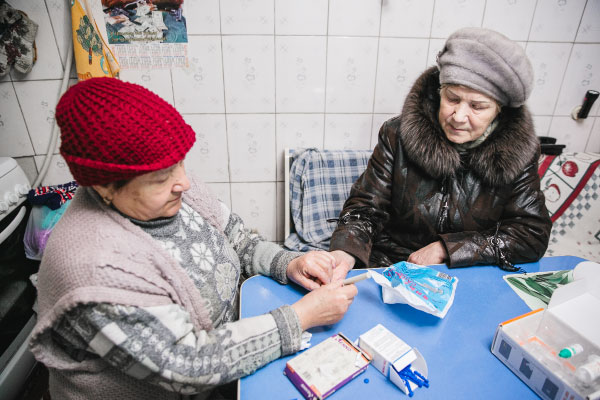 Kyrgyzstan: a woman checks her friend's insulin levels
Those who do get a diagnosis face numerous challenges when it comes to treatment.
'Diabetes medication should be free, but supply doesn't meet demand, Hannah Ross, Programme Development Officer for Age International, explains.
'People are forced to top up their medication at their own expense; many simply can't afford to and go without.'
As a result, problems like diabetic foot are common - a complication with blood flow that can lead to foot amputations and permanent physical disability.
Over one thousand Kyrgyz people were diagnosed with diabetic foot in 2016.

Age International plans to tackle diabetic foot
Right now, there are no specialist podiatrists in Kyrgystan to treat diabetic foot. So, Age International is training podiatrists and stationing them in fully equipped 'podiatry rooms' (stationed in the equivalent of GP surgeries) so that patients receive thorough check-ups and early treatment.
The charity will establish new multidisciplinary medical teams – made up of podiatrists, surgeons, orthopaedists, and endocrinologists - to provide more holistic, joined-up care.
Finally, Age International plans to launch and support a number of diabetes support groups - clubs for older people with diabetes, where members can find support and advice about their condition.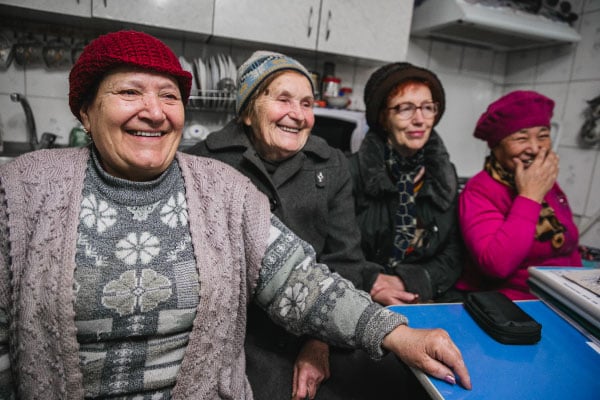 A diabetes group meets in a member's kitchen kitchen
'Using community support groups to provide diabetes care is a new approach,' Ross says about plans to create 'diabetes clubs'.
Clubs will also raise awareness about diabetes and run education campaigns in their local communities.
Age International will also train sixty nurses, and update training guidelines and clinical protocols.
The 'diabetes foot' programme is designed in collaboration with the Ministry of Health's Chief Endocrinologist and will run for three years, from April 2018.
The programme is being run thanks to support from the World Diabetes Foundation - who have been collaborating with Age International since 2009.
If successful, Age International hopes that the government of Kyrgyzstan will consider adopting this approach in other areas of the country.
Fast facts
The Kyrgyzstan government estimates that over 90% of people suffering from type 2 diabetes are over 60
By 2045 it is estimated that more than 388,000 people in the country will have the condition.
41% of cases go undiagnosed in Kyrgyzstan due to poor screening and lack of awareness
Cover this story
Get in touch with our media team today
Thanks to World Diabetes Foundation
With thanks to the World Diabetes Foundation. Without their support, this work would not be possible.