Age International joins reception with The King to celebrate humanitarian work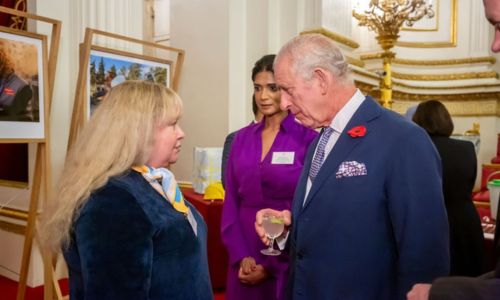 Published on 15 November 2023 03:00 PM
Frontline workers and charity patrons came together at Buckingham Place to recognise the UK's response to international crises, and mark the Disasters Emergency Committee's (DEC) 60th anniversary.
Age International's CEO Alison Marshall was joined by Victoriia Panchenko, who led the response work on behalf of our partner HelpAge International in western Ukraine. Victoriia spoke with The King about the ways they've been supporting older people, including health visits at home, setting up community safe spaces and providing cash assistance.
Thousands of older people have been disproportionally affected by the conflict in Ukraine, which has become the world's oldest humanitarian crisis. They face more barriers to accessing food, water and medicine, and are less able to relocate. Older women are particularly vulnerable, as they are more likely to be isolated and unable to afford basic supplies. HelpAge staff and volunteers continue to provide essential support, often in challenging situations and at risk to their own lives, to ensure older people's needs are met.

This work has been made possible through the DEC Ukraine Humanitarian Appeal.