I'm raising 4 grandchildren and doing informal work to get by
Nge is 63 and lives in Myanmar. She cares for her 4 grandchildren single-handedly, while their parents work abroad in Thailand.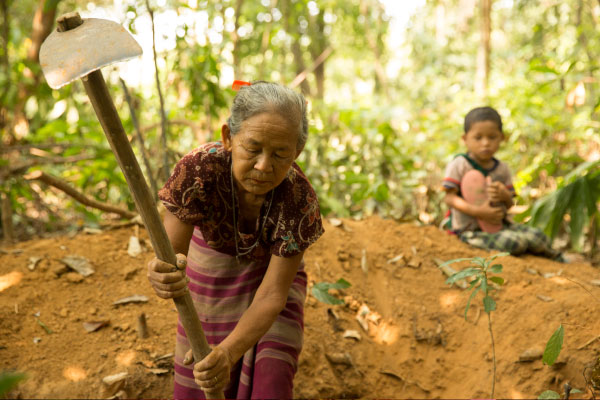 Nge is raising 4 grandchildren in Myanmar while their parents work abroad, in Thailand. 'I wash their clothes, cook for them, clean them. I work to feed us all.'
Every day she forages in the forest for Ka-tat tree roots, and digs for clams in the riverbed, to eat and to sell in the village.
'In the rainy season I collect mushrooms and bamboo shoots. I also raise pigs and goats. And I grow some plants next to my house.'
Nge has lived in this village for 48 years - ever since she got married and moved in with her husband 36 years ago.
Now she is 63-years-old and a widow. 'I miss him sometimes but when I start to feel sad I just think about my grandkids and then I feel happy again,' she says.
Raising 4 young children is a lot to manage. 'Sometimes I have pain in my body or I feel weak,' she says. 'But I can't go to a doctor because I would have to hire a motorbike to get there and I can't afford that.'
What kind of support would she like? Nge says: 'If I had a pension I could buy more goats and get better food for my grandchildren, more nutritional food.'
'I believe that older people can still good go for their community – we can make an impact but we don't have the money and sometimes, physically, we can't do what we want to do.'
'In my experience, there is no support for older people – older people are poor and ignored.'
'Even though I am very poor, I still have dreams. I dream for my grandchildren. I want them to grow up and become a businessman, an educated woman and a monk!'
Who cares about older women's work?
Age International is examining older women's experiences of work - paid and unpaid - in poorer countries.
Assets for media
Credit must be given for all assets used. Get in touch for more info.

Follow us on Twitter
Stay up to date with the latest news, publications and blogs