Alemtsehay's journey to became a home care volunteer
In Ethiopia, Age International is working with three local civil society organizations which support older people, including Medhin HIV Positive Elders Association, to improve healthcare for older people. 59-year-old Alemtsehay went from being supported by the association to becoming a volunteer for our project and helping other older people.
Healthcare in Ethiopia is often inaccessible for older people and not age or disability-inclusive, with a lack of awareness about healthy ageing and a tendency for health programmes to overlook older people. Our project with the civil society organisations seeks to address this by upskilling healthcare staff, improving outreach and access to healthcare for older people, and also by training home and community carers to support older people at home.
Alemtsehay, 59, is a single mother and home-based care volunteer living in the southern region of Ethiopia with her three children. Twenty years ago, she lost her husband, who worked as a long-distance truck driver, in a terrible traffic accident. Afterwards, she fell ill and on a visit to a nearby hospital, she was diagnosed with hypertension and HIV. The news was a shock.
"It was a very difficult time of my life, I thought that my life turned upside down".
The care and support Alemtsehay received from health professionals and from her family helped her to carry on and continue caring for her children, but one day when she collected her monthly HIV medications from the hospital, the case manager told her about the Medhin HIV Positive Elders Association. She immediately decided to join the association and began receiving various materials as well as peer support. Over time, she became an active member of the association and was even able to open a small shop thanks to its support, which helped her to feed her children and send them to school.
When Alemtsehay heard about our project to improve healthcare as it began a couple of years ago, she volunteered to be one of the home and community-based care volunteers. She received three weeks of hands-on training on caregiving, counselling, healthy lifestyle, and other areas.
Now, Alemtsehay is providing home care for 15 frail and destitute older people in her neighbourhood. She is one of 150 home and community-based care volunteers on the project!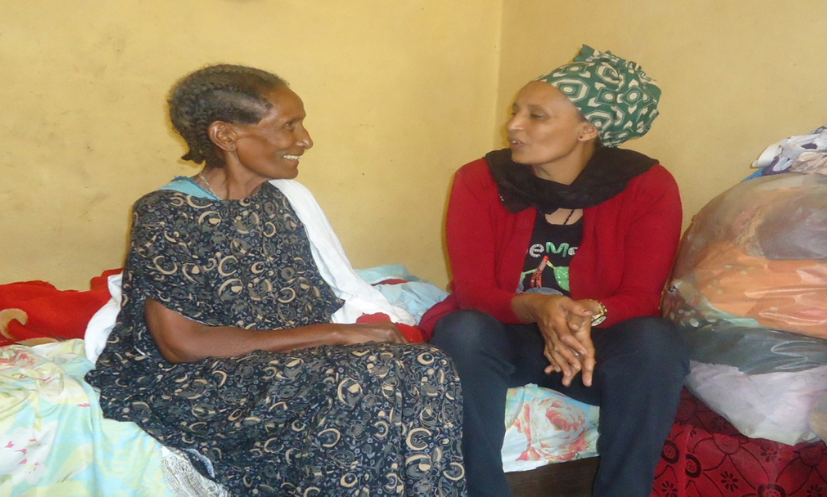 The life changing impact of cataract surgery
Learn how this project in Ethiopia has also helped many older people access better eyecare and treatment, including how a simple cataract surgery changed Mohammed's life.

Follow us on social media
Keep seeing our stories or ask us a question - connect on Facebook and Twitter.
Regular donations change lives
Our work relies on monthly donations. A monthly gift from you could transform the lives of so many people.