Do we respect our elders?
Mary Robinson, member of The Elders and first woman President of Ireland, examines changing attitudes towards ageing and older people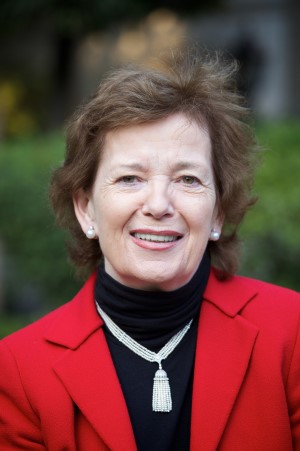 It is a sad irony at a time when the world has more older people than ever before – living longer with even greater wisdom and experience to offer – that they are often not respected as they have been in the past.
Indeed many face prejudice and discrimination; find it difficult to access vital public services; have problems retaining or finding jobs and even become victims of mental or physical abuse.
For far too many, old age brings with it the looming shadow of poverty, ill health and the loss of dignity.
Our ageing world
Sixty five per cent of people over the age of 60 live in developing countries. And, by 2050, this number will have risen to 80 per cent.
Sadly, it is in these countries – where people continue to play an important role well into old age – that they are often most at risk.
On the African continent – where the overwhelming majority of people do not have a social pension – older people work well into their advanced years, often in the informal sector.
The devastation brought about by HIV, particularly in sub-Saharan Africa, has led many older people to take on care-giving and financial responsibilities for their children and grandchildren.
Human rights are universal
The first article of the Universal Declaration of Human Rights proclaims that all human beings are 'born free and equal in dignity and rights.' These rights do not diminish with age, but they do need greater protection.
Many older people face unique challenges that hinder them from enjoying the same fundamental human rights as everyone else, particularly in respect to basic social services such as income support and access to health care.
During my time as United Nations High Commissioner for Human Rights, I was always very concerned not only with the recognition of human rights, but also their implementation and delivery.
The UN Millennium Development Goals were an important step in transforming the recognition of rights into effective action on the ground. As we approach the 2015 deadline for implementation of these goals, we must ensure that the post-2015 development agenda has a strong rights-based approach – and that this should pay special attention to the rights of our increasingly ageing global population.
An explicit recognition of the rights of older people must go hand-in-hand with the implementation and delivery of balanced development programmes which also protect and support younger generations.
Human rights are rooted in respect for the dignity of the human person, so we must ensure that the realisation of older people's rights – for example, in the form of social welfare – does not become a cynical attempt on behalf of politicians to win votes from an increasingly influential part of the electorate.
The adoption of the Madrid International Plan of Action on Ageing (MIPAA) in 2002 was a milestone in encouraging countries to advance the rights and welfare of older persons.
In its three 'priority directions' – older persons and development; advancing health and well-being; ensuring enabling and supportive environments – the Madrid Plan presented policy recommendations to help each government create 'a society for all ages'.
Although significant progress has been made over the past decade, the implementation of the Madrid Plan is uneven. Older persons in many societies, particularly women, still face the same prejudices and challenges as before.
Valuing older people
One of the biggest challenges is that of perception. We must learn to appreciate the singular gifts of those in the latter part of life – and their specific needs.
We should encourage people from across the age spectrum to make common cause on the pressing issues and challenges that concern us all.
The challenge of climate change, for example, should be approached from the perspective of intergenerational justice. Intergenerational equity can serve as a unifying theme, connecting developed and developing countries, young and old, in advocating for a just solution, based on shared values.
Older people must have a voice in this debate. We are often the ones who see most clearly our responsibility to future generations.
Speaking from personal experience, I can say that there is nothing like becoming a grandparent to awaken an acute concern for the future of our planet. We can't let our children and grandchildren look back on this critical period in time and say that we failed them.
Older people have much to contribute to so many spheres of life. We don't seek much in return. We don't want to become objects of care, benevolence and charity – we just ask that our rights are respected, so that we can live out our lives with dignity in a safe and secure environment.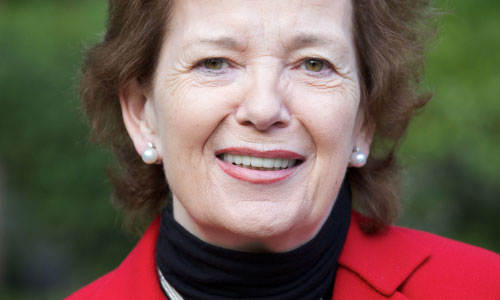 Mary Robinson is a member of The Elders, a group of independent global leaders working together for peace and human rights.
She was the first woman President of Ireland and is a former UN High Commissioner for Human Rights.
A tireless advocate for justice, she was also President of Realising Rights: The Ethical Globalisation Initiative from 2002 to 2010 and UN Special Envoy for the Great Lakes Region of Africa from 2013 to 2014.
As UN Special Envoy for Climate Change and Chair of the Mary Robinson Foundation – Climate Justice, she is leading efforts to galvanise political will for a robust international agreement on climate change.

Follow us on Twitter
Stay up to date with the latest news, publications and blogs